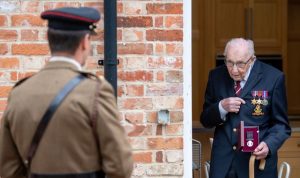 Tom accepts his promotion to Honorary Colonel
Captain Tom Moore, the army veteran who's raised more than £30 million for the NHS, has been promoted to Colonel to mark his 100th birthday.
A Spitfire and Hurricane will also fly over his home in Bedfordshire to celebrate the day.
Also, more than 140,000 birthday cards have been sent to the WW11 veteran who saw service in Burma.
Among the well-wishers are the Prince of Wales and the Duchess of Cornwall.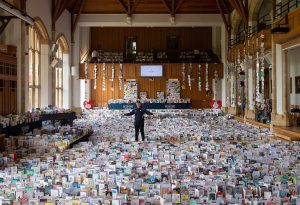 Birthday cards fill the local school hall
And the Royal Mail has given Tom his own post franking – "Happy 100th Birthday Captain Thomas Moore NHS fundraising hero 30th April 2020".
Tom will spend the day at his home with his daughter Hannah Ingram-Moore and her family.
He said: "It is quite extraordinary that I am turning 100.
"It is even more extraordinary that I am doing so with this many well-wishers and I am in awe at the response my walking has had.
"To everyone who has donated, sent birthday cards and messages, sincerely thank you.
"Please stay home, stay safe.
"Tomorrow Will Be A Good Day."
Tom originally set out to raise £1,000 by walking up and down his garden 100 times.
But his efforts caught the nation's attention and money poured into the charity boxes.