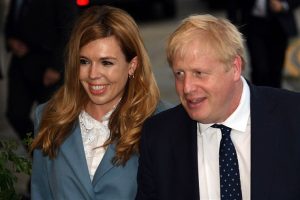 Prime Minister Boris Johnson and his fiancée Carrie Symonds have had a boy.
Both mother and baby are "doing very well" after the birth at a London hospital.
A spokesman for the PM and Ms Symonds said:
"The Prime Minister and Ms Symonds are thrilled to announce the birth of a healthy baby boy at a London hospital earlier this morning.
"Both mother and baby are doing very well.
"The PM and Ms Symonds would like to thank the fantastic NHS maternity team."
Mr Johnson, 55, returned to work on Monday after being in intensive care affected with coronavirus.
The new baby is Mr Johnson's sixth child.
He has four children with his ex-wife Marina Wheeler.
And the High Court ruled the public had a right to know that Mr Johnson had fathered a daughter during an adulterous liaison while Mayor of London in 2009.
It is Ms Symonds' first child.