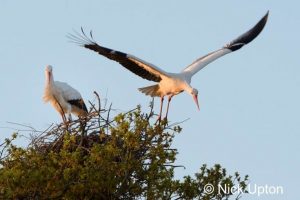 Credit Durrell Wildlife Conservation Trust
Britain eagerly awaits the arrival of the stork – the first clutch of chicks for more than 600 years.
A pair of storks have built stick nests in oak trees and laid five eggs.
It's only a matter of weeks before they hatch.
More than 300 birds have been bred in captivity and released at three locations in West Sussex and Surrey.
The new arrivals are expected at Kneep, a former dairy farm sitting in 3,500 acres allowed to return to nature.
Kneep has been part of a stork reintroduction scheme.
Special sites had been made for the breeding pairs, but they preferred to make their own.
Last years a breeding pair laid three eggs, but they failed to hatch.
This year the birds – which are monogamous – returned and laid again.
If the project is successful it'll be the first wild-born storks since 1416.
Lucy Groves, project officer for the Durrell Wildlife Conservation Trust, said:
"The female was just coming up to four years old last spring and was a little bit too young to breed but they obviously know what they are doing this year and were ahead of the game.
"It's really exciting. It's going to be a fantastic year."
Isabella Tree, the co-owner of Knepp with Charlie Burrell, said:
"It's so funny. We thought we needed to 'manage' them and put up nest platforms and so we did.
"They've turned their beaks up at all of this – where they want to nest is in the tops of oaks.
"That's where they would've nested when they were here centuries ago."
White storks are traditionally thought to bring fertility and good luck.
The Durrell Stork Project:
https://www.youtube.com/watch?v=1n15aPsN0iA