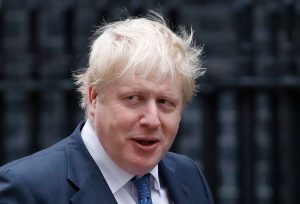 Prime Minister Boris Johnson is set to return to Downing Street tomorrow after coronavirus put him into intensive care.
Mr Johnson is said to be "raring to go" after being away from Number 10 for the last three weeks.
He spent a week in St Thomas' Hospital, London, fighting Covid-19.
And another fortnight recuperating at Chequers, his official country residence.
The PM's return comes as the UK death toll goes beyond 20,000.
Some experts fear that number could double when other unrecorded deaths are included.
Scientists are advising it's too soon to start relaxing the lockdown measures already in force.
Classics' scholar Mr Johnson cited Cicero – the Roman philosopher – that the health of the nation should be "supreme".
The PM told Cabinet members his biggest concern was the danger of a "second peak".
He faces the difficult juggling act of trying to hold Covid-19 through lockdown balanced with returning the country to work to save a crumbling economy.
Sir Graham Brady, chairman of the 1922 Committee of Tory backbenchers, warned that extended lockdown risked "mass unemployment, business failure and catastrophic deterioration of the public finances".