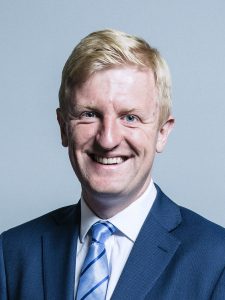 Oliver Dowden, Culture Secretary
The Premier League should broadcast its matches for free if the current season continues.
Prime Minister Boris Johnson sees the resumption of live sport as key to boosting the nation's morale.
He has been briefed on how the games could be played behind closed doors.
The Government wants the matches to be shown on terrestrial television to stop people going to each other's homes to watch games on Sky Sports and BT.
Culture Secretary Oliver Dowden has asked the PL to consider the possibility.
He said: "It wouldn't send the best signal if they were one of the first major sports to resume behind closed doors and the public at large couldn't have access to it."
In its 30-year history the Premier League has never been seen on free-to-air terrestrial television.
The BBC's Match of the Day covers the highlights.
The PL has been postponed since March.
Clubs are looking for a solution to end the season as they try to safeguard their billion-pound contracts with Sky Sports and BT.
Germany's Bundesliga hopes to return to playing in May – albeit behind closed doors.
But the Dutch Eredivisie has decided to call off the rest of the season.