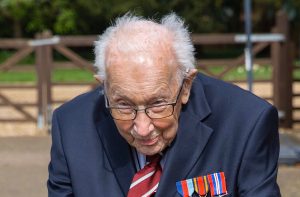 NHS hero fundraiser Captain Tom Moore has become the oldest person ever to top the UK singles' chart.
The 99-year-old war veteran, singing with Michael Ball  and the NHS Voices of Care Choir, is number one with "You'll Never Walk Alone".
And, he'll still hold the chart record when he turns 100 next week.
So far, Tom has raised more than £28 million for the NHS.
The previous oldest singer record holder was Tom Jones.
He was aged 68 in 2009 when he recorded for charity "(Barry) Islands In The Stream".
On hitting a UK No 1, Captain Tom told the Official Charts Company:
"What wonderful news to receive today, a No 1 single and a record breaker too – my grandchildren can't believe I am a chart-topper!
"I have to thank Michael Ball, the NHS Voices of Care Choir and everyone behind the scenes, who shared their talents and expertise in order to raise money for the NHS, to whom we owe so much.
"And, of course, the public for buying the single and donating – we're in this together, and I am forever grateful for your support. And this just proves 'You'll Never Walk Alone'".
Ball, who has also now achieved his first ever No 1 single, added:
"This is the most extraordinary thing, one of the proudest moments of my career.
"But it's not about me it's about Captain Tom, thank you for giving him a No.1 on his 100th birthday!"