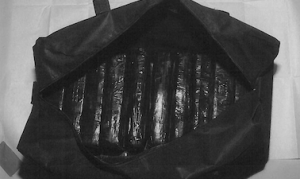 Cocaine in holdall
Almost 200kg of cocaine worth £20 million has been found hidden in lorries carrying toys and paper.
The drugs were seized in two separate HGVs by Border Force officers.
However, the National Crime Agency (NCA) does not believe the seizures are connected.
One lorry was from the Netherlands.
It was stacked with card and paper.
Under a floor void officers found 140kg of cocaine worth about £14 million.
The second vehicle, carrying toy building bricks, held two holdalls packed with 50kg of the Class A drug.
The NCA said 62-year-old Dutch national Gerrit Van Eckeveld, from Nieuwegein in the Netherlands, was arrested in relation to the 140kg discovery, and later charged with importing cocaine.
He was remanded in custody.
Two Czech nationals arrested on suspicion of importing the 50kg have been released under investigation while inquiries continue.
NCA Dover branch commander Martin Grace said:
"These seizures demonstrate that the organised criminal networks involved in international drug trafficking continue to pose a threat to the UK, even with the restrictions brought about by the coronavirus pandemic.
"These two seizures have deprived those networks of a substantial amount of drugs and, crucially, a substantial amount of profit that would have been reinvested in more criminality.
"Working with partners like Border Force, we are determined to do all we can to disrupt and dismantle crime groups involved in drug distribution."
Dave Smith, Border Force regional director, said: "This was a very successful day's work for our officers who, between the two seizures, have taken a very substantial amount of drugs out of circulation.
"Border Force remains active on the front line, keeping the country safe from illegal drugs."