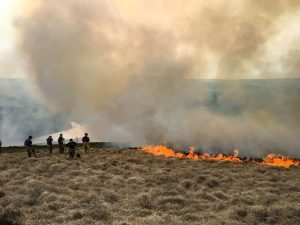 Credit National Trust
Rare ground nesting birds, owls and Mountain hares have returned to a moor ravaged by fire only a year ago.
Last April more than 1,730 acres of countryside caught fire on Marsden Moor in North Yorkshire.
It's thought the devastating blaze was started by a disposable barbeque.
The fire destroyed years of reforestation work.
Now, after tireless work by rangers and £100,000 of public money, the National Trust reports wildlife is slowly returning.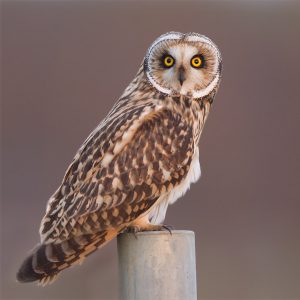 Short eared owl
Tom Harman, Lead Ranger at Marsden Moor said:
"It's really positive to see wildlife returning to Marsden Moor after everything that happened last year.
"Many hands made it happen and they have worked so hard.
"While the landscape might appear to have recovered, it's just one kind of grass that has grown back – no heather, no moss, no flowers.
"After several smaller fires already this spring, we know the risk of another big fire hasn't gone away.
"We lost 700 hectares of important habitat last year, and I don't think our birds and animals could withstand another loss on that scale."
"We're doing all we can to protect the moor so that nature is still there for people to enjoy when all of this is over – but we need everyone's help.
"We're asking people to stay at home, but if they do have to come here for an essential journey, to be extra vigilant not to accidentally start a fire.
"Even a cigarette dropped out of a car window can have a catastrophic impact."