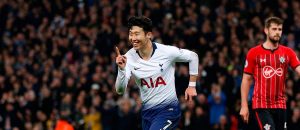 Spurs striker Heung-min Son is about to start his military service in South Korea.
The 27-year-old Tottenham player will complete just three weeks training.
Military service is for two years but Son was exempted after helping his country win gold at the 2018 Asian Games.
He will serve with the 9th Brigade of the Marine Corps until May 8.
Spurs confirmed Son would complete his military service in a statement two weeks ago, which read:
"The Club can confirm that Heung-min Son will commence his mandatory military service in South Korea this month.
"The forward arrived back in his home country at the end of March where he is currently in quarantine.
Our medical staff are in regular contact as he concludes his recovery after fracturing his arm in our 3-2 win against Aston Villa on 16 February and continues to train.
"Son will return to London following the conclusion of his military service in May."
Son has had a topsy-turvy season with Spurs with nine goals and seven assists.
However, he broke his arm against Aston Villa.