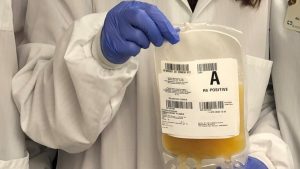 Coronavirus survivors are being asked to donate blood plasma so new patients can be treated.
The NHS Blood and Transplant Service (NHSBT) has appealed for the plasma which has antibodies that stop the virus growing.
The NHSBT wants the convalescent plasma for clinical trials.
Donors need to have tested positive for Covid-19 and be about 28 days into their recovery.
The number of antibodies is thought to be at its peak between 21 and 28 days.
Giving plasma is different from giving blood.
It takes about 45 minutes to complete the process.
The criteria for donation are:
be between 17 and 66 years old
weigh between 50kg and 158kg
not be pregnant, or had a baby, miscarriage, or termination within six month
not have an existing or earlier heart condition
not have had a transfusion since 1st January 1980
Research shows antibodies drawn from COVID-19 survivors improves the symptoms of other positive patients.
The NHSBT said in a statement:
"If fully approved, the trials will investigate whether convalescent plasma transfusions could improve a COVID-19 patient's speed of recovery and chances of survival.
"All clinical trials have to follow a rigorous approval process to protect patients and to ensure robust results are generated.
"We are working closely with the government and all relevant bodies to move through the approvals process as quickly as possible."