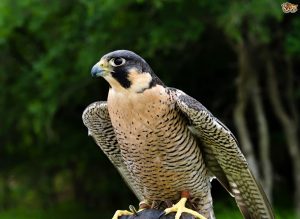 Falconers can take wild Peregrine chicks from nests to help set up a "stud book" of British falcons.
Natural England (NE) has given permission for three falconers to remove six chicks from nests.
The birds would be used in a breeding programme.
The Peregrine is can fly at more than 200 mph as it dives for prey.
In the 70s breeding pairs in England were down to less than 50 and the bird was on the edge of extinction.
However, numbers have recovered to 826 breeding pairs.
Many nest in cathedrals and tall city buildings, away from harm.
The NE decision to grant licences has angered conservationists and the RSPB.
They fear the move could "open the door" for more applications to remove endangered chicks.
Mark Thomas, the RSPB's head of investigations, said:
"The cultural value of these birds is that they are free, wild and available to all.
"The application will therefore be regarded by many as selfish – it should be reconsidered in light of alternative solutions, and in the context that peregrines suffer from illegal persecution, trade and loss of breeding range."
Dave Slater, NE director of wildlife, said:
"Our expert staff have taken care to ensure the strict legal tests have been met, and that there will be no negative conservation impacts to the population.
"To ensure this is the case, the licence holders need to meet a number of conditions before they can take any chicks from the wild.
" We have also put in place strict conditions to safeguard the welfare of any chicks taken, and we will be closely monitoring the operation throughout."
Salisbury Cathedral Peregrine camera