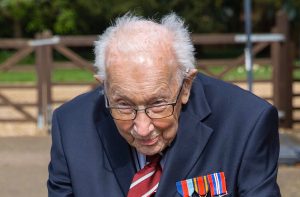 An NHS charity single by hero fundraiser Tom Moore has shot to the top of iTunes within hours of being released.
The 99-year-old's version of "You'll Never Walk Alone" has boosted his fundraising to a staggering £25 million.
Tom was hoping to raise a £1000 for the NHS as a thank you for his treatment for a broken hip.
He vowed to walk 100 lengths of his garden to mark his 100th birthday at the end of April.
However, Tom's JustGiving site caught the imagination of the nation during he coronavirus lockdown.
Tom, from Bedfordshire, teamed up with singer Michael Ball to record the 1945 Rogers and Hammerstein song from the musical Carousel.
The track, which costs 99p opens with Captain Tom saying: "Hold your head up high and don't be afraid of the dark."
Michael Ball starts singing with Tom as they're back by the NHS Voice of Care Choir.
Michael, 57, told BBC Breakfast: "I made some calls.
"I called my record producer and said have we got a track we could put together?
"I had an idea that the NHS Voice of Care Choir could form the background for us.
"Crucially though was talking to Tom and Hannah.
Because we're all over the place and all isolating, I had to get Tom to speak the words and then sing the words into his phone.
"All the choir did it individually around the country when they were off shift.
"We did it all in 12 hours, I can't quite believe we did."
Army veteran Tom could now be in line for an honour.
A spokesperson for the Prime Minister said:
"Captain Tom has captured the heart of the nation with his heroic effort and raised an incredible amount of money for hardworking NHS staff.
"He has embodied the spirit of the country.
"From his military contributions to his support for NH staff, Tom has demonstrated a lifetime of bravery and compassion.
"The PM will be looking at ways to recognise Tom and his efforts."
DeccaRecordsMusic
Meanwhile, artist Adam Salisbury has posted this video to Instagram – a speeded up film of him painting Capt. Tom's portrait.
https://www.instagram.com/p/B_FaSWGggUA/