A knighthood for £17 million NHS fundraiser Tom Moore?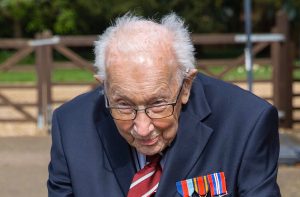 Prime Minister Boris Johnson will look to reward veteran army Captain Tom Moore and his "heroic efforts" in raising £17 million for the NHS.
A petition demanding a knighthood already has 300,000 names.
Tom – just days away from the 100th birthday – hoped to raise £1000 by walking 100 lengths of his garden.
But his pluck, courage and determination stirred the nation – and within days his JustGiving page soared past £17 million.
He wanted to repay NHS staff after he was treated for a broken hip.
It's the biggest ever single campaign on the site.
Now, Tom says he'll carry on pounding the 25 metres stretch outside his Bedfordshire home.
Meanwhile, Downing Street said that Mr Johnson will look at ways to recognise Tom's efforts.
A petition for him to be knighted already has more than 300,000 signatures.
The Prime Minister's spokesman told a Westminster briefing:
"From his military contributions to his support for NHS staff, Tom has demonstrated a lifetime of bravery and compassion.
"The Prime Minister will certainly be looking at ways to recognise Tom's heroic efforts."
Number 10 said Captain Moore had "captured the heart of the nation" and "embodied the spirit of the whole country in doing their bit for the battle against coronavirus".
Health Secretary Matt Hancock, who described Tom as an "inspiration".
And director-general of the World Health Organisation Tedros Adhanom Ghebreyesus praised his "extraordinary act of solidarity".