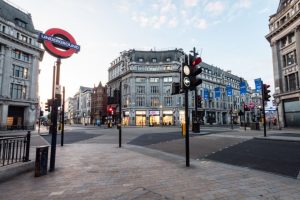 Britain will suffer its deepest recession for 300 years if the coronavirus lockdown is kept in place for too long.
The Office of Budget Responsibility (OBR) predicts the UK economy could shrink by 35% in the next few months.
Also, unemployment could hit more than two million people.
The OBR warning comes as the International Monetary Fund (IMF) forecasts the global economy crashing to levels last seen in the 30s Great Depression.
The UK's Government borrowing could also reach its highest level since WW11.
However, Chancellor Rishi Sunak has said the OBR prediction is "just one potential scenario".
He added it was "important that we are honest about the economic impact of the virus and the hardship ahead".
The Government now faces a tough balancing act of keeping coronavirus at bay through lockdown, but in doing so seriously damaging the country's economy.
Some ministers fear an economic meltdown could lead to more deaths than the virus itself.
It's expected acting Prime Minister Dominic Raab was announce an "easing" of restrictions on Thursday.