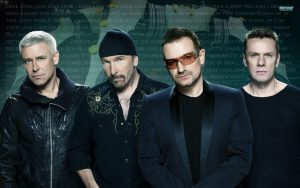 Rock band U2 has given more than £9 million to support health care workers in Eire tackling coronavirus.
The money will be used to source and buy personal protective equipment (PPE) for frontline staff.
A spokesman for the U2 confirmed the donation to the Press Association.
The money will help an initiative by Avolon, a Dublin based aircraft leasing company.
It has acquired a Boeing Dreamliner 787 and is ready to fly to China to pick up 55 tonnes of PPE equipment
The first consignment arrived at Dublin Airport earlier in the week.
Avolon is providing its services at cost only.
Taoiseach Leo Varadkar welcomed the initiative.
He tweeted: "Govt has ordered what in normal times would be a 13-year supply of PPE.
"Even so, all assistance from private sector and general public is welcome."