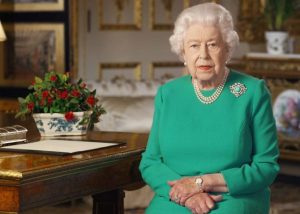 The Queen has called on a wartime spirit to "remain united and resolute" in the battle against coronavirus.
In an historic address to the nation watched by almost 24 million people the Queen urged:
"Together we are tackling this disease and I want to reassure you that if we remain united and resolute, then we will overcome it."
Her Majesty called on her own wartime experiences to bolster the nation.
She invoked the spirit of Dame Vera Lynn's WWII song "We'll Meet Again".
In a speech written by the Queen and her advisers, she said:
"We should take comfort that while we may have more still to endure, better days will return.
"We will be with our friends again; we will be with our families again; we will meet again.
"The pride in who we are is not a part of our past, it defines our present and our future."
The Queen, aged 93, praised the work on the NHS frontline, keeping the country going while putting their own lives at risk.
She said: "I want to thank everyone on the NHS front line, as well as care workers and those carrying out essential roles, who selflessly continue their day-to-day duties outside the home in support of us all.
"I am sure the nation will join me in assuring you that what you do is appreciated and every hour of your hard work brings us closer to a return to more normal times."
She also praised people for coming together to clap the efforts of NHS workers.
She said: "The moments when the United Kingdom has come together to applaud its care and essential workers will be remembered as an expression of our national spirit; and its symbol will be the rainbows drawn by children.
Commenting on the pandemic the Queen said:
"While we have faced challenges before, this one is different.
"This time we join with all nations across the globe in a common endeavour, using the great advances of science and our instinctive compassion to heal.
"We will succeed – and that success will belong to every one of us."