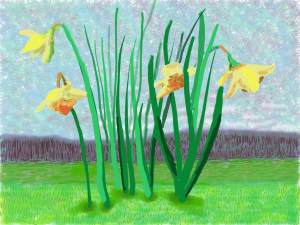 ©David Hockney
Artist David Hockney has spent his time in lockdown by drawing on his iPad.
Hockney is isolated in Normandy, France with his dog Ruby and two assistants.
He spends most days in the garden capturing the "spring awakening" on his tablet.
Hockney has shared the pictures with the BBC.
The painter picked Normandy as a good place to capture the arrival of spring.
He did a similar project ten years ago in his native Yorkshire.
Hockey said Normandy offered a broader range of blossoms, with apple, cherry, pear and plum trees, as well as the hawthorn and blackthorn.
He told the BBC: "We found this house with a large garden that was cheaper than anything in Sussex.
"I began drawing the winter trees on a new iPad.
"Then this virus started…
"I went on drawing the winter trees that eventually burst into blossom. This is the stage we are right now.
Meanwhile the virus is going mad, and many people said my drawings were a great respite from what was going on."
After sending pictures of "work in progress" to a friend, Hockney decided to release one image of daffodils for everyone to share.
It's called: Do Remember They Can't Cancel the Spring.
He is now sharing nine more, all painted in the last few days.
He said: "Why are my iPad drawings seen as a respite from the news?
"Well, they are obviously made by the hand depicting the renewal that is the spring in this part of the world.
"I intend to carry on with my work, which I now see as very important."