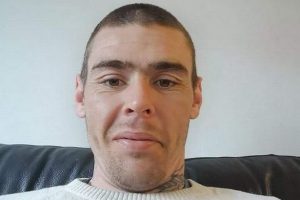 Marc Olley
A man has been jailed for 20 months after biting and spitting at two police officers.
Marc Olley, 36, who claimed he had coronavirus, was flanked in court by security guards.
They were wearing goggles, face masks, aprons and surgical gloves.
Olley was arrested after a domestic row between him and his ex-girlfriend.
The court heard he became aggressive and was wrestled to the floor.
During the scuffle he bit the officers' fingers and spat at them.
Olley, of Pasture Street, Grimsby, said: "If your face was down here, I would spit right in your face."
Magistrate Joe Howe sitting at Grimsby Crown Court, told Olley:
"In the current climate, we are advised to take part in social distancing, to stay in and stay away from each other.
"Spitting, even in normal circumstances, is one of the most despicable and demeaning things that one human being can do to another.
"To spit at police officers – they are there doing their job of work.
"They are trying to protect us all.
"They are not there as targets and victims for people who are dissatisfied."
Ms Rebecca Perrin, mitigating for Olley, said they were unpleasant offences.
She said it was "more by luck than good judgement" that the spit did not land on the officers.
She added: 'He is appalled and disgusted with himself for behaving as he did."