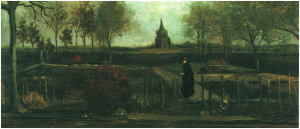 A Van Gogh picture worth millions has been stolen from a museum.
The 1884 painting "Parsonage garden in Nuenen, Spring" was taken from the Singer Laren museum in the Netherlands.
Thieves smashed through the plate-glass door just after 03.00 – setting off the alarm – grabbed the picture and ran off.
Jan Rudolph de Lorm, director of the Singer Laren said:
"It is also a blow for all of us because art is there to be seen and to be shared, to inspire and comfort, especially in these difficult times.
"I am shocked and incredibly pissed off that this has happened.
"This is a beautiful, moving painting by one of our greatest painters that has been stolen from the community."
In 1883 and 1884, Van Gogh was living with his parents in Nuenen, where his father was a minister.
The artist found peace and inspiration in the garden.
Art crime investigator Arthur Brand told The Telegraph:
"It seems this was a well-prepared hit and run job.
"In the 90s in the Netherlands two stolen Van Goghs ended up in the hands of a big crime lord who used them to negotiate with the public prosecutor.
In 2002, two Van Goghs were stolen from the Van Gogh Museum and ended up in the hands of the Mafia, who used them as a bargaining chip.
In 99 per cent of cases, these stolen pieces don't end up in private collections. I think this is a copycat."