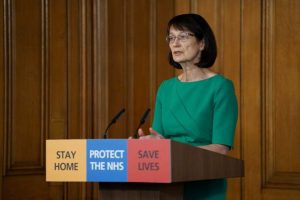 Credit Pippa Fowles Downing Street
Normal life in Britain will not resume for at least six months, warned the Government.
Dr Jenny Harries, deputy chief medical officer for England, said the nation will "not be in complete lockdown".
She said: "If we are successful, we will have squashed the top of that curve, which is brilliant, but we must not then suddenly revert to our normal way of living.
"That would be quite dangerous.
"If we stop then all of our efforts will be wasted and we could potentially see a second peak."
She added social distancing will be gradually lifted as the coronavirus pandemic abates.
The Government moves are unprecedented in peace time.
Cabinet minister Robert Jenrick also said "we simply cannot" ask health workers to go on to the frontline without adequate protective equipment.
Later, the NHS announced the death of a 55-year-old consultant with Covid-19.