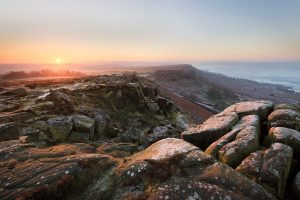 Curbar Edge
A police force has been criticised for filming people out walking in a national park during the lockdown.
Derbyshire police used a drone to film walkers at Curbar Edge in the Peak District.
It then posted the video online to shame people into staying away from tourist spots.
The force admitted it had checked the number-plates of vehicles in the car park.
Derbyshire police insisted people should not walk or exercise their dogs in the area during the Government's coronavirus lockdown.
The force Tweeted:
"Despite posts yesterday highlighting issues of people still visiting the #PeakDistrict despite government guidance, the message is still not getting through.
"@DerPolDroneUnit have been out at beauty spots across the county, and this footage was captured at #CurbarEdge last night.
"Some number plates were coming back to keepers in #Sheffield, so we know that people are travelling to visit these areas.
"Daily exercise should be taken locally to your home. Under government guidance all travel is limited to essential travel only.
"Travelling to remote areas of the #PeakDistrict for your exercise is not essential travel. PLEASE, #StayHomeSaveLives."
The Cabinet Office, however, contradicted the police ruling, saying people were not barred from driving somewhere for exercise or dog walking.
Video from Derbyshire Police
A spokesman for Derbyshire police insisted there was nothing sinister about the drone deployment.
He added: "It's not Big Brother.
"It's just to illustrate the fact that people are going out and making these journeys against the government's rules.
"The rules are clear that people should avoid all non-essential travel and exercise and walk their dogs near their homes.
"If they drive into the Peaks and have a collision or breakdown or go for a walk and fall over, we're the ones who will be called, or mountain rescue."
Clare Collier, Advocacy Director at Liberty, said:
"We're extremely concerned by the extent of these coercive powers.
"This is a pandemic and so it should be treated as a public health issue.
"Instead the Government is treating it as a criminal justice issue, putting resources into detaining and criminalising.
"What's concerning is what this heavy-handed approach will do to the public's relationship with the police in the long-term.
"And while some people will feel reassured by a firmer police response to the pandemic, others will feel fear, especially groups who are already over-policed."