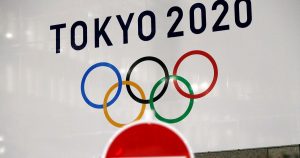 The 2020 Tokyo Olympics have been postponed to the following year.
The decision came after a request from the Japanese Prime Minister Shinzo Abe.
The games were due to start on July 24th and run until August 9th.
But the Covid-19 pandemic has brought them to a halt.
More than 15,000 people have died worldwide from the coronavirus.
International crowds of 600,000 people were expected to travel to Tokyo.
The announcement to postpone was made after a conference call involving Mr Abe and the International Olympic Committee (IOC) president Thomas Bach.
It is the first time the Olympics have been postponed in peacetime.
They were previously cancelled in 1916 during World War One and 1940 and 1944 during the Second World War.
Japanese Prime Minister Abe suggested on Monday the Olympics may need to be postponed.
He told his parliament the world is currently "not in such a condition" for the event to take place at this point in time.