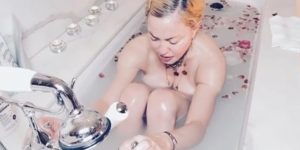 Madonna has posted a bizarre film of her sitting in a milky bath calling coronavirus the "great equalizer".
In a sombre video, with a tinkling piano playing in the background, she opines the pandemic "doesn't care if you're rich or poor".
Surrounded by rose petals she adds:
"That's the thing about Covid-19.
"It doesn't care about how rich you are, how famous you are, how funny you are, how smart you are, where you live, how old you are, what amazing stories you can tell.
"It's the great equaliser and what's terrible about it is what's great about it."
Coronavirus has forced the 61-year-old singer to cancel her tour of France.
She has since gone into self-isolation.