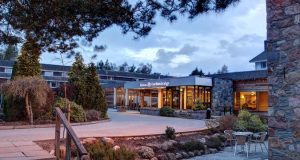 A hotel has sacked its 30 staff and evicted them without notice in response to the government's coronavirus measures.
Coylumbridge Hotel in Aviemore, Scotland, told workers to "vacate the Hotel accommodations immediately".
It added brusquely that their "services" were "no longer required".
Staff were also told to return any company property before leaving the premises.
They will receive one week's pay in lieu of notice, as well as compensation for accrued holidays not taken, according to the letter.
The Coylumbridge, owned by Britannia Hotels, wrote to staff about the sackings.
The letter was posted to Twitter – its contents causing viral outrage.
It read: "Taking the latest Government advice, this letter is to confirm that with effect from 19th March 2020 your employment has been terminated as your services are no longer required.
"Your final payslip will include all hours worked up to and including your final day, together with any accrued holidays not already taken and one week's pay in lieu of notice.
"You are asked to vacate the Hotel accommodations immediately, returning any company property to John Macfarlane, Hotel Controller before leaving the hotel.
"I would like to take this opportunity to wish you every success in securing future employment and thank you for your time at Britannia Hotels."
The Scottish Tourism Alliance said:
"This is not reflective of the approach of any business we know, or our members, and all have come out to condemn the deplorable actions of this company.
"Aside from the approach the letter sent to employees lacked any compassion or humanity in tine: it was cold, brutal, and shocking. We have never encountered anything like this."
Messages on TripAdvisor about the Coylumbridge have been suspended.