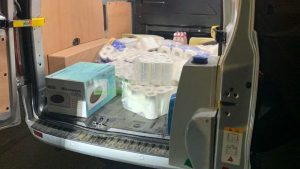 Credit Essex Police
Three people have been arrested after police found dozens of allegedly stolen toilet rolls in a van.
Essex Police tweeted:
"Police officers always get a massive sense of satisfaction when we catch burglars, however we never expected to find this stolen loot in the boot."
Using the hashtag "ThatsHowWeRoll", it added:
"Stolen items recovered and 3 arrested all within an hour of it being reported."
Since the pandemic spread of Covid-19, UK shelves in village shops to giant supermarkets have been stripped of loo paper.
The item has been changing hands for ten times its value.
Water companies have warned people against using wet wipes, kitchen roll and newspaper and flushing them away.
South West Water recently tweeted: "Let's work together. Please don't flush kitchen roll, wet wipes or newspaper down the loo as these can cause major blockages in our sewers."