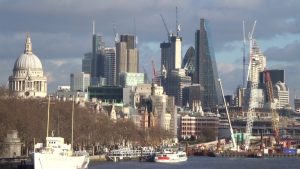 London is on the verge of being put into lockdown as the capital sees a soaring spread of coronavirus.
Prime Minister Boris Johnson and his scientific team of advisers are closely watching the city's rise in figures.
Scottish First Minister Nicola Sturgeon has already hinted that "more stringent" measures could be introduced earlier in London, because it is ahead on the "infection curve".
Ms Sturgeon, party to Cobra emergency briefings, said:
"We know London is ahead of the rest of us."
Other countries have shut down major cities to try to halt Covid-19.
Mr Johnson said he would not hesitate in imposing "further and faster measures".
He added: "But let's be absolutely in no doubt that these are very, very important choices that we are now making in our daily lives.
"And the more closely and the more strictly, more ruthlessly, we can enforce upon ourselves, our families, the advice we are getting, then the better we will be able to protect our NHS, the fewer deaths we will have and the less suffering there will be in the UK population."
On London he said: "We do not rule out – because it would be quite wrong to do so – taking further and faster measures in due course."