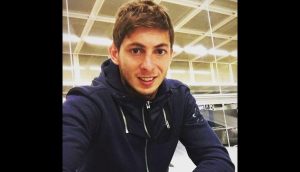 The plane crash that killed a Premier League footballer was caused by the pilot losing control, a report has revealed.
Emiliano Sala was on his way to his new club Cardiff when the light aircraft crashed over the English Channel.
Sala, 28, and the pilot David Ibbotson both died.
Only the Argentinian striker's body was recovered.
The Air Accidents Investigation Branch (AAIB) said the single-engine Piper Malibu aircraft suffered an in-flight break-up.
It was being flown too fast for its design limits.
The AAIB added that Mr Ibbotson, 59, was probably affected by carbon monoxide poisoning.
Alison Campbell, senior inspector for operations, said that on the night, there was "little or no" visible horizon.
That suggested the pilot needed "to manoeuvre to avoid it."
The pilot then attempted an "abrupt nose-up" manoeuvre following a descent of thousands of feet in a matter of seconds.
The speed was described as being far in excess of the design limits of the plane which caused it to break up.
Investigators concluded that the aircraft entered the Channel upside down, and the impact was "not survivable".