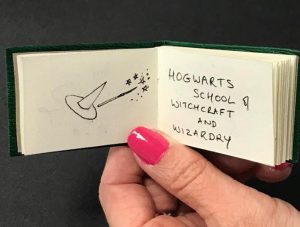 Pictures: Just Collecting
A miniature Harry Potter book hand-drawn and hand-written by JK Rowling is expected to fetch £130,000 at auction.
The words and pictures were later used in her first book "Harry Potter and the Philosopher's Stone".
It has extracts from the letter sent from Hogwarts for Harry's first term.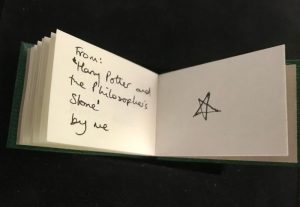 The text includes:
"Students may also bring an Owl OR a Cat OR a Toad"
"Parents are reminded that first-years are not allowed their own broomsticks"
The final page bears the inscription: "From Harry Potter and the Philosopher's Stone, by me."
Also features Rowling's sketches of a wand, cauldron and a witch's hat.
The green bound book was written in 2004 and measures 1.6 inches by 2.4 inches.
It was specially done by Rowling for a charity auction in 2004, where it sold for £10,000.