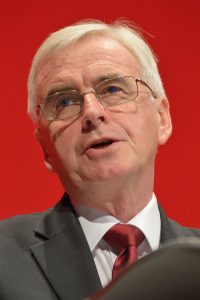 Shadow Chancellor John McDonnell
The Labour Party has cancelled the event to announce its new leader.
The occasion on April 4th was expected to attract hundreds of the party faithful and journalists.
The decision was taken considering the coronavirus pandemic.
Now, the new leader will be named on the same date but at a "scaled back event".
A Labour Party spokesperson said:
"In light of the spread of coronavirus, the Labour party has taken the decision to cancel the leadership elections special conference arranged for April 4 in order to safeguard our members and staff and to protect public health.
"The results of the Labour leadership and deputy leadership elections will be announced at a scaled back event on the same date.
"We are now considering options for what form that event will take."
Earlier Labour's Shadow Chancellor John McDonnell hinted the event would most likely be cancelled.
He said: "If the medical advice is that over the next week that we end large gatherings and all the rest of it then we'll follow that.
"The one thing I have a great relief about is that I have nothing to do with the organisation of internal elections in the Labour Party.
"I am not on the National Executive Committee and I've got enough on my plate with the budget at the moment."
Sir Keir Starmer is the likely successor to Jeremy Corbyn against rivals Lisa Nandy and Rebecca Long-Bailey.