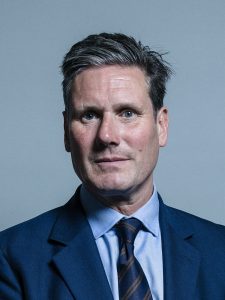 Next Labour leader favourite Sir Keir Starmer has not ruled out the UK campaigning to re-join the EU.
Sir Keir said it was a decision for future generations.
The shadow Brexit secretary said he didn't think it was a "priority for now and the immediate future".
He added: "It's for our kids to decide what our future relationship is."
Sir Keir was talking at a Daily Mirror husting in the West Midlands.
He was the only leadership candidate not to rule out campaigning to reverse.
Rebecca Long-Bailey was the candidate who posed the question to her two leadership rivals and she ruled it out herself.
Lisa Nandy said: "I'd rule it out.
"We haven't got the option, we've lost that right because we didn't take the deal that ticked every box that we had about protecting close economic and political cooperation.
"We refused to do it."
Sir Keir played a key role in moving Labour towards a second referendum before the election.
However, the party's Brexit policy was not the main factor in its humiliating election defeat.