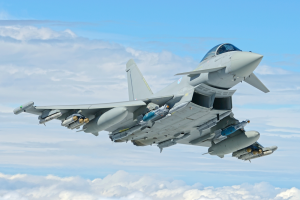 Typhoon
RAF fighter planes have been scrambled to intercept Russian aircraft courting British airspace.
Soviet aircraft were spotted near Scotland.
The planes were said to be "in an area of interest".
Three pairs of Eurofighter Typhoons and other "NATO assets" were deployed.
The Russian planes were revealed to be Tupolev Tu-95 Bears – strategic bombers used for long-range maritime patrols.
An RAF spokesperson said:
"This was a routine response to Russian aircraft approaching UK airspace and was coordinated with several other NATO allies."
Two pairs of Typhoons were sent from RAF Lossiemouth, close to Moray in northeast Scotland.
A third came from RAF Coningsby in Lincolnshire.
The RAF confirmed on Twitter:
"At no point did these aircraft enter UK sovereign airspace.
"The Russian aircraft were shadowed by our Typhoons, along with [Quick Reaction Alert] aircraft from our NATO partners in Norway and France."