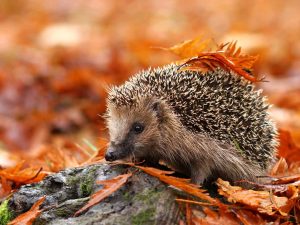 A university research team is to investigate how many hedgehogs die on Britain's road.
It's hoped the results will help stop the animal's rapidly declining population.
The Nottingham Trent University team will see if tunnels under roads could cut the number of deaths.
The hedgehog has seen its population decline from 36 million in the 50s to little more than one million today.
The animal struggles with lost habitat, increased competition for food, and traffic.
A hedgehog can roam more than two miles in a night while hunting for food.
Researchers also hope the study could help planners and developers.
The study is across six sites in the UK.
It is part funded by wildlife charity People's Trust for Endangered Species (PTES).
Lauren Moore, a PhD student in the university's School of Animal, Rural and Environmental Sciences, said:
"We need to know whether roads are affecting the long-term viability of hedgehog populations.
"To the best of our knowledge, the impact of roads on hedgehogs has not been investigated in this way before.
"There have also been no studies to examine whether tunnels are effective at reducing hedgehog road mortality or what attributes of a tunnel could make them more effective."
Nida Al-Fulaij, grants manager at PTES, said:
"Lauren's work could help save this iconic species from further decline."