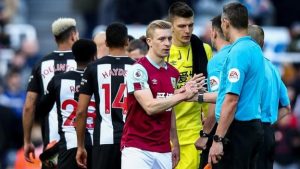 Handshakes between Premier League players before the kick-off have been banned.
Acting on medical advice, the play-fair gesture has stopped "until further notice" over fears of coronavirus spreading.
It's thought the football season could be seriously curtailed – or even stopped – if the Covid-19 virus hit a club.
A Premier League statement said:
"The Premier League fair-play handshake will not take place between players and match officials from this weekend until further notice.
"Coronavirus is spread via droplets from the nose and mouth and can be transmitted onto the hands and passed on via a handshake.
"Club and match officials will still perform the rest of the traditional walk-out protocol ahead of each fixture.
"On entering the field of play, the two teams will continue to line up, accompanied by the Premier League music, then players from the home team will walk past their opposition without shaking their hands."
Everton FC director Sasha Ryazantsev fears an outbreak is likely to "force" matches to be played behind closed doors.
He said: "It would be a forced decision rather than one we would proactively engage in.
"But the whole situation goes far beyond the world of sport.
"Of course, nobody wants to play behind closed doors, and I don't think it's inevitable at the moment that it will happen.
"But we feel it is quite likely it may happen in the coming weeks."