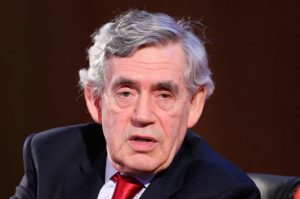 Former Labour Prime Minister Gordon Brown has backed Keir Starmer to be the party's new leader.
While praising the other two candidates Mr Brown said only Sir Keir could bring Labour back to power.
Mr Brown – in Downing Street from 2007 to 2010 – said:
"But there is one candidate with the expertise, with the eloquence, with the dedication, with the commitment and indeed with the values that are necessary for Labour to return to power.
"Keir Starmer has all the qualifications that are necessary for a prime minister of the future.
"A vote for Keir Starmer is a vote for hope. It's a vote for the future. It's a vote for the values that all of us believe in deeply.
"Join Keir Starmer and let's elect a Labour government.
"Britain deserves better than this [Conservatives] and it needs a Labour Party with a vision of what can be achieved in the new world of the 2020s.
"When Labour has come together and been united, we have had massive achievements that have changed the face of Britain."
Sir Keir, the shadow Brexit secretary, is the bookies' favourite to become Labour's next leader.
Jeremy Corbyn stood down last December after leading Labour to its worst general election defeat since the 1930s.