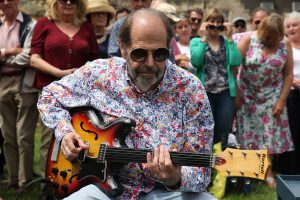 Credit BBC: Ray playing the Bartell
A guitar owned by John Lennon and George Harrison has been valued at £400,000.
The 1960s Bartell instrument, made in California,  was a prototype and had no fret boards on the neck.
It was originally given to Lennon who then passed it on to Harrison.
Despite his virtuoso ability on the guitar, Harrison found the Bartell hard to play.
However, a session musician called Ray mastered the instrument.
Harrison was so impressed he handed it over for keeps.
Ray took the Bartell to the Antiques Roadshow and showed it to expert Jon Baddeley.
Ray said: "I played a few notes and he [Harrison] said 'Yeah you're definitely getting more out of it than I am, it's doing better for you, why don't you have it'".
"I never really thought about value, as George being a mate and all that.
"I didn't realise it was worth that much money. It's lucky I don't keep it in the house."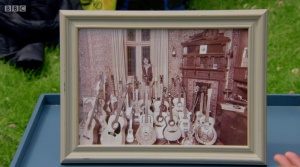 Credit BBC
Ray brought a photograph which shows Harrison with the guitar, offering proof of its unique provenance.
Mr Baddeley said: "I think in 25 years it's by far the most expensive thing I've ever seen.
"You know to a guitar collector it's initially a very rare guitar.
"Then to somebody who's a Beatles fan, to own a guitar that was once owned by both John Lennon and George Harrison, can you get a better history?
"Two of the most important rock stars of the 20th century."