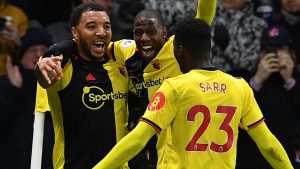 Liverpool's amazing 44-match unbeaten run in the Premier League has come to a shuddering halt.
And, it was a relegation threatened Watford that brought an end to the record-breaking feat.
Their much deserved 3-0 victory at Watford's Vicarage Road stopped the Reds once match short of setting a record for successive league wins.
Jurgen Klopp's team was just one game away from making it 19 in a row until the Hornets delivered a sting in the tail.
Liverpool still have a 22 points lead in the Premier League and are on course to lift the title for the first time in 30 years.
Klopp said: "I know people will suggest we cannot be the best-ever Prem team – but we can win more games next week and beyond.
"The boys have so many records, why would they want any more?
"We don't want to be greedy.
"You cannot get records by just wanting them.
"You have to perform.
"We didn't perform — and that's what my concern is.
"You break records because you are 100 per cent focused on each step, whether it is the marathon or whatever.
"When we look back in 500 years, we'll say Liverpool nearly did it – but that's not my concern.
"It was clear that at some time we would lose a game.
"We didn't wait for it, but it was clear that it would happen.
"Tonight, it happened.
"We don't think it's not important because we won so many games.
"But we don't think as well it's the biggest catastrophe in the world of football."