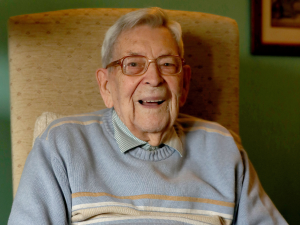 Britain's oldest man Bob Weighton has become the oldest man in the world.
The previous holder of the title – Chitetsu Watanabe from Japan – died at the age of 112.
One hundred and eleven year-old Bob now holds the record.
He was born on March 29th in 1908.
Bob, a former teacher and engineer from Alton, Hampshire, said:
"Well, I don't really feel satisfied because it means someone else has died.
"I just accept it as a fact, it's not something I ever intended, wanted or worked for but it's just one of those facts of life.
"You might find it amazing but it's just one of those things."