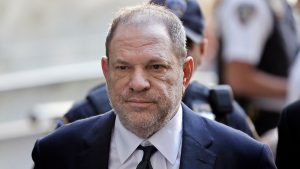 Jailed rapist Harvey Weinstein should be stripped of his CBE.
The movie mogul was given the honour in 2004 for services to the film industry.
A CBE – Commander of the British Empire – is one honour below a knighthood.
Removing the honour is the responsibility of an independent panel.
But Downing Street has hinted it expects Weinstein's CBE to go.
The Prime Minister's official spokesman said:
"It's a matter for the independent honours forfeiture committee to consider cases where the honours system has been brought into disrepute.
"We are crystal clear that any unwanted sexual behaviour is completely unacceptable, and we condemn sexual violence in all of its forms."
Several MPs have called for Weinstein to have his CBE removed immediately.
Dawn Butler, Labour's equalities spokesman, said: "The Government needs to act, fast.
"Weinstein should have been stripped of his honours a long time ago, but now he's been found guilty there's no excuse."
And, Liberal Democrat Layla Moran tweeted: "Weinstein should be immediately stripped of his CBE. We should not honour him."
Tory George Freeman, who said: "Let us take this moment to send a clear message that this sort of behaviour will not be condoned or tolerated any more in this country."