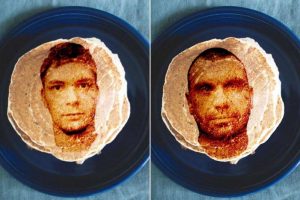 Wanted:  (L) Thomas Cooper (R) Thomas McKeogh
Mugshots of wanted suspects have been posted – on pancakes.
Surrey Police marked Shrove Tuesday (Pancake Day) with the faces superimposed on pancakes.
The suspects are all on the run.
Through social media the force posted the pictures.
On Facebook it said:
"We've teamed up with crepe artiste Phillipe De Pancake to help us locate some of our "most wanted" through the medium of pancake art.
"This is Thomas McKeogh.
"We'd love to 'whisk him away' – so if you know where he is, give us a call on 101 reference PR/45190063997."
Meanwhile, on Twitter the police served up suspected burglar Thomas Michael Cooper.
"We would like to establish if he is a crepe-tomaniac."
The messages prompted a run of equally bad puns from readers.
One Twitter user said: "With any luck you'll catch some unsavoury characters."
Another added: "I hope you manage to crêpe up on them and apprehend them safely!"
The force replied: "Thank you – we'll try to be syruptitious!"