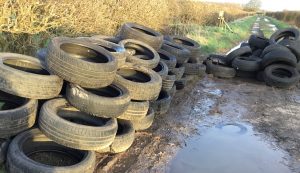 Tyres at Elston
Councils could mistakenly be encouraging fly tipping by increasing their own waste disposal charges.
Much of the revenue generated by managing rubbish is being spent on clearing up illegal waste.
Over the past five years local authorities have raised more than £28 million in waste fees.
However, over the same years they spent more than £22 million clearing up after and prosecuting fly tippers.
A 15% increase in trade waste fees has seen a 59% jump in fly tipping.
John O'Connell, chief executive of the Taxpayers' Alliance, said:
These findings demonstrate the damaging effects that increased charges can have.
"There has been little to no overall benefit to the balance sheets.
"Councils should clean up their act by increasing efficiency and eradicating wasteful spending."
More than 30,000 people are employed by English councils to handle waste.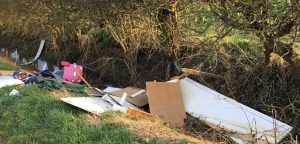 In one incident fly tippers left piles of rubbish along a quiet countryside road used by hikers, cyclist and horse riders.
The rubbish – mainly tyres and bags of deadly asbestos – appeared overnight near Elston, Nottinghamshire.
One local resident said: "It's incredible how anyone could do such a thing without a thought or care.
"The pile is largely tyres.
"They must have come from a garage that simply couldn't be bothered – or cared – to dispose of them properly".
"There used to be a council waste disposal site near Elston, but it closed some years ago.
"People think it's still there and turn up with their rubbish.
"When they find it's closed, they just dump it."
Police from Newark are investigating the illegal tipping.
In a recent fly-tipping court case in Nottingham Nathan Cossey, 32, received a suspended eight-months jail sentence.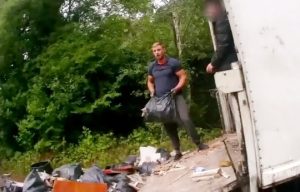 Credit Nottingham City Council. Fly-tipper Nathan Cossey
Councillor David Mellen, Leader of Nottingham City Council, said:
"This is a significant result for the authority and the sentence sends a very strong message that we will not tolerate this type of behaviour which potentially puts people's health at risk.
"Fly-tipping is a blight on any community, but this pile of rubbish contained asbestos, which could have had serious consequences."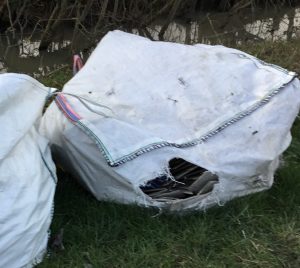 Asbestos at Elston