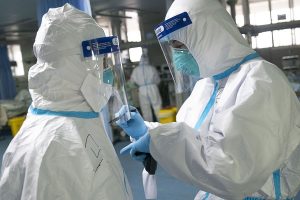 Britain is "prepared for all eventualities" as fears grow over a coronavirus pandemic.
The virus, which started in China, has rapidly spread to South Korea, Iran and Italy.
The World Health Organisation (WHO) is concerned there's no obvious link between China and the new outbreaks.
Some scientists believe the virus can be easily caught from people showing no symptoms.
Coronavirus has hit Italy hard, with 50,000 in Lombardy and Veneto in a lockdown.
The country has 160 cases, the largest group in Europe.
Britain has 13 people diagnosed with Covid-19 illness.
However, Downing Street insisted the country was "well prepared" and the risk to individuals remained low.
The Prime Minister's official spokesman said:
"We will be led by the advice from public health and medical experts and will take steps which they feel are required to best protect the British public.
"We are well prepared for UK cases; we are using tried and tested procedures to prevent further spread and the NHS is extremely well prepared and used to managing infections.
"We continue to work closely with the World Health Organisation and international partners as the situation develops and we remain prepared for all eventualities."