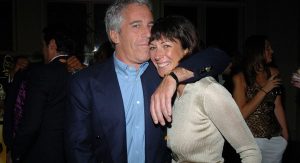 Epstein and Ghislaine Maxwell
 Sex trafficker Jeffrey Epstein and his muse Ghislaine Maxwell filmed "guests" when they stayed in his mansion.
Maxwell told a close friend "we have everything on videotape".
Socialite Christina Oxenberg said when she was alone with Maxwell she confessed:
"She said many things. All creepy. Unorthodox. Strange.
"I could not believe whatever she was saying was real.
"Stuff like: 'Jeffrey and I have everyone on videotape.'"
Ms Oxenberg, 57, has told the FBI about the conversations.
Other sources have also claimed secretly filmed visitors to his Manhattan home.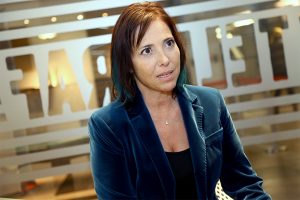 Christina Oxenberg
Ms Oxenberg also revealed that the late Epstein bought Maxwell a helicopter when she passed her pilot's test.
She alleged Maxwell told her: "Jeffrey doesn't trust commercial helicopter pilots.
"They are eyes and ears we don't need.
"And I can do anything.
"You see, I don't make mistakes.
"I am indispensable to Jeffrey.
"This way nobody knows who's going to the island.
"This way we have anonymity and secrecy and privacy." 
Ms Oxenberg wrote on the Patreon website:
"When I told the FBI all of this, they said they knew about the helicopter but they didn't know why. 
"I was able to provide them why – so that Epstein and Maxwell could conceal what they were up to.
"Proving they knew they were up to no good."