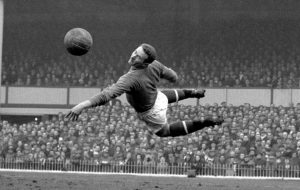 Manchester United goalkeeper Harry Gregg wanted to be remembered for his football – not a hero of the Munich air crash, his funeral was told.
Sir Bobby Charlton – one of the Busby Babes rescued by Gregg after the 1958 disaster – was among the mourners.
United legends Sir Alex Ferguson and Denis Law also attended the service in Gregg's home town of Coleraine in Northern Ireland.
Gregg, a former Northern Ireland international, died earlier this week aged 87.
BBC NI sports presenter Stephen Watson delivered a eulogy as his widow Carolyn and other family members watched on.
He said the disaster left a scar on Gregg for the rest of his life as he dealt with the twin torments of guilt and grief.
Watson added: "Harry Gregg's notoriety because of the Munich air crash came at a price – it cast a shadow over his life that he found difficult to dispel, but he always carried it with grace.
"Harry was determined that even though Munich shaped his destiny, it would not shape his life.
"Harry's actions, though, on the runway that fateful day meant he transcended sporting greatness.
"He was called the Hero of Munich, but he always wanted to be remembered simply as a footballer and a coach of some repute.
"In his own words: 'I'm Harry Gregg from 34 Windsor Avenue in Coleraine who played football – I was useful on some days and rubbish on others. That's how I want to be remembered. Not for something that happened on a spur of a moment'.