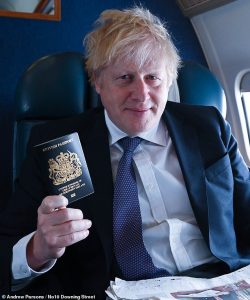 ©Andrew Parsons/ 10 Downing Street
Britain's "iconic" blue passport is to be issued from March, the Home Office has announced.
Home Secretary Priti Patel said: "Leaving the EU gave us a unique opportunity to restore our national identity and forge a new path in the world.
"By returning to the iconic blue and gold design, the British passport will once again be entwined with our national identity and I cannot wait to travel on one."
From mid-2020 all new passports will be blue to replace their burgundy predecessors.
Former prime minister Theresa May announced the return to blue passports in December 2017.
She said it was "an expression of our independence and sovereignty" as Britain prepared to leave the EU.
The blue passport was introduced in 1921.
Some people maintain Britain didn't have to adopt the EU burgundy passport in the first place.
When Croatia joined the EU in 2013 it kept its blue passport with no plans to change colour.
The new UK passports is embossed with the floral emblems of England, Northern Ireland, Scotland and Wales.
They will include the "latest and most secure printing and design techniques" to ensure they will be "even harder to forge", the Home Office said.
Valid burgundy passports can continue to be used until they expire.