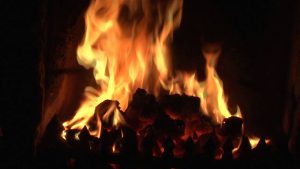 Coal and wet wood for home fires are to be banned.
The use of wet wood has seen a dramatic surge in the sale of wood burner stoves.
The fuel, however, is one of the biggest causes of air pollution.
Coal has warmed Britain's homes for centuries.
The sale for domestic use will be banned by 2023.
The government will also phase out the sale of wet – or unseasoned – wood as well as coal from 2021 onwards.
It's hoped the move will help clear up England's air quality.
Research suggests air pollution causes 40,000 early deaths a year.
Environment Secretary George Eustice insisted the change is necessary to reduce air pollution.
"Cosy open fires and wood-burning stoves are at the heart of many homes up and down the country, but the use of certain fuels means that they are also the biggest source of the most harmful pollutant that is affecting people in the UK.
"By moving towards the use of cleaner fuels such as dry wood we can all play a part in improving the health of millions of people."
Under the plans bagged house coal will be banned by February 2021.
Loose coal sold directly to consumers from coal merchants will be banned by February 2023.
The phase-out of wet wood will begin in February 2021, although it may remain on sale for some time after that to allow existing stocks to be used up, the Government said.
Coal merchants warned the legislation would hit the poorest hardest.
Nigel Yaxley, managing director of the Association of UK Coal Importers and Producers, said:
"The introduction of a ban on the sale of house coal would have an unintended, disproportionate impact on some of the most economically and socially vulnerable people in the UK, with a real likelihood of an increase in the severity of fuel poverty levels."