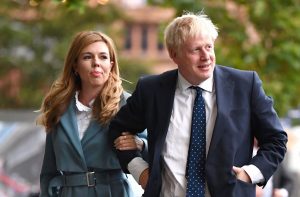 Boris Johnson and partner Carrie Symonds
Boris Johnson has reached a divorce settlement with his estranged wife Marina Wheeler.
Family court Judge Sarah Gibbons gave Ms Wheeler, 55, permission to end the marriage after a finance dispute was resolved.
The Johnsons have four grown-up children.
Their 25-year marriage ended in September 2018.
Neither the Prime Minister nor Ms Wheeler – a human rights QC – attended the Central Family Court in London.
Judge Gibbons barred reporters from disclosing details of the agreed financial settlement.
Mr Johnson, 55, started dating Carrie Symonds, 31, soon after his wife left him.
Ms Symonds has since moved into Number 10.