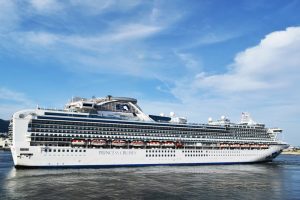 The government is looking to rescue Britons trapped on board a cruise liner stricken with the coronavirus.
More than 450 people have tested positive for the disease on the Diamond Princess – currently quarantined off Japan.
It's the biggest cluster of the illness outside of mainland China, where coronavirus originated.
For two weeks passengers have been confined to their cabins and served food by staff in masks and protective clothing.
The British government has come under pressure to repatriate its citizens act.
Several other countries have already started to take off its people.
The US flew more than 300 American citizens out on Sunday.
Canada, Australia, Italy, South Korea and Israel have all made plans to evacuate their nationals.
The Foreign Office said:
"Given the conditions on board, we are working to organise a flight back to the UK for British nationals on the Diamond Princess as soon as possible.
"Our staff are contacting British nationals on board to make the necessary arrangements. We urge all those who have not yet responded to get in touch immediately."
A Downing Street spokesman said people on board were being contacted about the possibility of a repatriation flight.