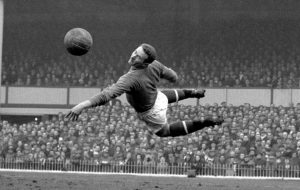 Harry Gregg – the former Manchester United goalie who survived the Munich air disaster – has died.
He was aged 87.
Gregg helped rescue teammates and passengers when the plane crashed in appalling weather.
They were travelling back from a European Cup match in Belgrade in February 1958.
Twenty-three people died, including eight first team players for Manchester United.
They were known as the "Busby Babes" after their manager Matt Busby.
United legend Sir Bobby Charlton credits Gregg for saving his life.
He also helped pull a baby from the wreckage of the aircraft.
Gregg was back in the United goal just two weeks after the disaster.
He received an MBE in 1995 and an OBE in 2018, both for services to football.
He played 247 times for United in all competitions after joining the club from Doncaster Rovers in December 1957, just two months before the disaster.
He was known as a "great shot-stopper".
He was determined, however, not to be just remembered for that February night in Munich.
Speaking in 2018 at a service marking 60 years since the disaster Gregg said:
"I would be telling lies if I said that I thought about it all the time.
"In fact, I would go insane.
"I know the media would like to talk about what happened on a runway.
"I don't blame people for that but if all I was ever part of, or all I ever achieved was to do with what happened in Germany, in Munich, if that was what my life was all about, it didn't come to very much."