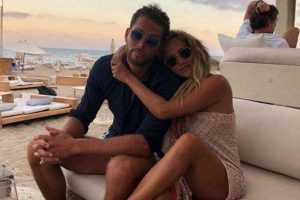 Picture: Lewis Burton/Instagram
Caroline Flack's boyfriend has spoken for the first time about her tragic death.
Alongside a picture of the couple, Lewis Burton, 27, posted on Instagram:
"My heart is broken we had something so special.
"I am so lost for words I am in so much pain I miss you so much I know you felt safe with me you always said I don't think about anything else when I am with you and I was not allowed to be there this time I kept asking and asking.
"I will be your voice baby I promise I will ask all the questions you wanted and I will get all the answers nothing will bring you back but I will try make you proud every day.
"I love you with all my heart".
Caroline's management company said she had been "under huge pressure" since she was accused of assaulting former tennis professional Burton.
They criticised the Crown Prosecution Service (CPS) for pressing ahead with what it called a "show trial" – even after Burton had said he did not wish to press charges.
The CPS responded: "Given the tragic circumstances, we will not comment on the specifics of this case at this stage."