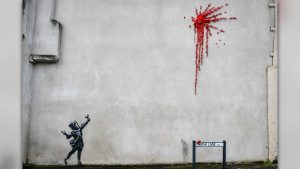 A Valentine's Day painting by street artist Banksy has been vandalised.
Less than 48 hours after the picture was spotted on the side of a building in Bristol it had been defaced.
Banksy confirmed he was the artist of the mural showing a young girl shooting a catapult at an exploding bunch of red flowers.
Someone has now scrawled "BCC Wankers" across the artwork.
It's thought BCC stands for Bristol City Council.
One local resident said: "It's a real shame, but it was always going to happen, unfortunately."
https://www.youtube.com/watch?v=P4D2VwekkjI